Clarence and Tora built their house through Habitat for Humanity as part of the IU-Whirlpool Blitz Build. By chance, their Solar for All installation took place on the eighth anniversary of the weekend that the house was moved to their lot. Fittingly, it was Homecoming Weekend both times.
It was also the first installation that ISFA had ever done. With two volunteer crews working in parallel, one on the roof, the other doing the wiring on the ground or in the attic, "we built out our solar array, 10 panels,over two days. We hit all the milestones set for us and finished on time the second day," Clarence says. There were some delays the first day which he attributed to inexperience, but with guidance from the project consultant, Ryan Zaricki of Whole Sun Designs, the system was generating power for their house by the end of the second day.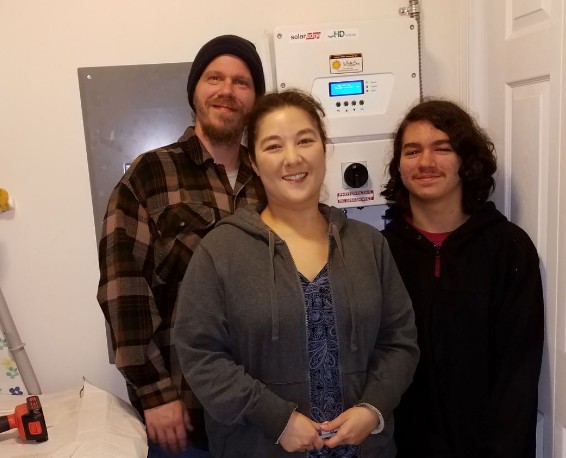 Tora says, "There are accidental benefits we gained from this process. Most importantly, Woodie Bessler (a volunteer who is an electrical engineer) discovered that the electrical system for the house was never grounded after the house was moved. That was a danger we did not even know about. Also the joist of a rafter had cracked and the insulation had shifted, probably when the house was moved. We also found and caulked a leak in the roof from around a vent pipe." She predicts that Solar for All will be "a medical check-up for everyone's house."
Grounding the house system is outside the scope of ISFA's involvement; the family has called in an electrician to do that. They will also have more insulation blown in, thereby reducing the amount of electricity consumed for heating and cooling. Clarence has other energy efficiency improvements in mind, based on advice he received from other volunteers who work in the building trades.
Their earlier experience with Habitat had already taught Clarence and Tora that working together brings people closer. Clarence says,"We learned a lot about our limits and we learned that we are capable of things that we didn't think we ever would be." Their son Bailey was just 7 when the house was built, but now at 15, he is part of the team. "I was really proud to see my son doing all this work," Clarence says. "Several months ago I had given him a lesson on making Cat 5 cables. He was able to put that experience to work. That was definitely uplifting and filled his dad with pride. He really enjoyed it."
Clarence has a tip for the installation volunteers that have not started yet. "The training Ryan gave us was really good. Still, there are some confidence issues when you are doing work you have never done before. When you get involved in a group like this, everybody's helping watch out for each other."
Feeling the love
Tora and Clarence sent excited texts to the group when the dial on their new meter spun backwards, building up credit for the energy they were producing. But they expressed deeper feelings as well – gratitude to the other members of their group, empowerment, hope.
Clarence talks about "the high you can get from helping others, a kind of buzz you can catch from selflessness." He felt it himself and caught it from the volunteers working on his house. When he led the Roof crew on the next installation, he said, "Brent is going to get solar today because we helped him. That's going to bring a change in his life and bring a change into the world – the larger world. That's like Habitat in a way, but solar is so exciting. People who are chasing solar are changing the world."
"My fear for the future is that we don't have politicians that see the importance of developing and encouraging and subsidizing alternative forms of energy for everyone. I feel that right now there is some back pedaling due to politics and that's awful, but I think that the larger population of people wants to see a better, cleaner world. We all want to leave something better for our great-grandchildren. We don't want to think, 'oh, what kind of a world have I brought my children into?' I don't think I can emphasize enough how exciting it is to have some place like this where you can output effort and achieve a positive result for the whole world."